Thank you for contacting Delta Roofing , a representative will contact you shortly.
RubberGard EcoWhiteEPDM membrane provides building owners with the proven performance of traditional RubberGard EPDM, while providing the additional benefit of keeping the roof cooler. Available in both 60-mil & Platinum 90-mil thicknesses, RubberGard EcoWhite EPDM Membrane is a bi-laminate, white-on-black cured membrane that can be used in conjunction with the comprehensive RubberGard EcoWhite EPDM line of accessories for rapid, consistent and cost-effective fully-adhered installations. It is available for UL- and FM-rated systems, exceeds ASTM D 4637 standards and is eligible for a 20 and 30 year Firestone Red ShieldWarranty.
Contact Us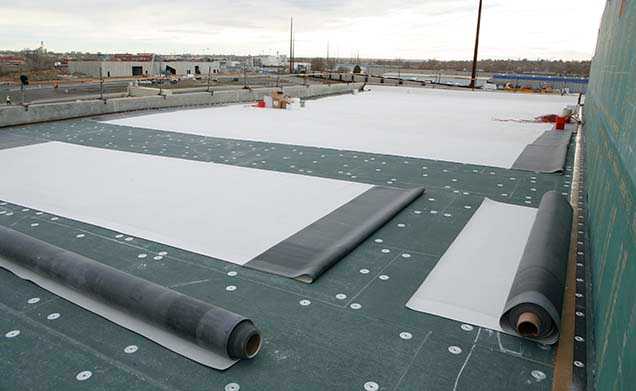 FEATURES AND BENEFITS
---
60 and 90-mil Thicknesses

Bi-laminate

Longevity

90-mil EcoWhite Platinum EPDM meets LEED certification requirements and exceeds ASTMD-4637 standards

20 and 30 year Firestone Red Shield Warranty
Keep rooftops cooler while maintaining the high standards you have come to expect from firestone.
RubberGardTM EcoWhiteTM EPDM membrane combines the proven performance of EPDM with a highly reflective white surface for regions that have higher cooling costs. RubberGardTM EcoWhiteTM EPDM is easy to handle, installs quickly and is more flexible than thermoplastic single-ply membranes, making it ideal for year-round applications.
With Ecowhite systems, you'll enjoy the firestone red shield platinum limited warranty that includes:

Puncture: Coverage for incidental punctures

Puncture/hail: Coverage for punctures of up to 2-diameter hail

Puncture/hail/wind: Coverage for punctures, hail and 100-mph winds