Thank you for contacting Delta Roofing , a representative will contact you shortly.
Contact Us
Dura-Seal AR Shingle Line
Features & Benefits
25-year Limited Material Warranty
60 mph (97 kph) Limited Wind Warranty
70 mph (113 kph) Enhanced Wind Warranty
Dura-Seal AR 5-year Algae Resistant System Warranty
Your Choice Warranty Program
7-year Right Start Period
Dura-Seal AR Ivory Mist listed with the CRRC
Dura-Seal AR Ivory Mist can be used to comply with CEC Title 24, Part 6 Cool Roof Requirements
Dura-Seal AR is a 3-tab shingle fortified with sustainable NEX polymer modified asphalt technology for enhanced granule adhesion and extreme weather protection, including Class 4 impact resistance. This product features security against algae staining.
SOLAR REFLECTIVE TECHNICAL DATA
Dura-Seal AR is listed with the CRRC.
Dura-Seal AR has tested to these radiative property values: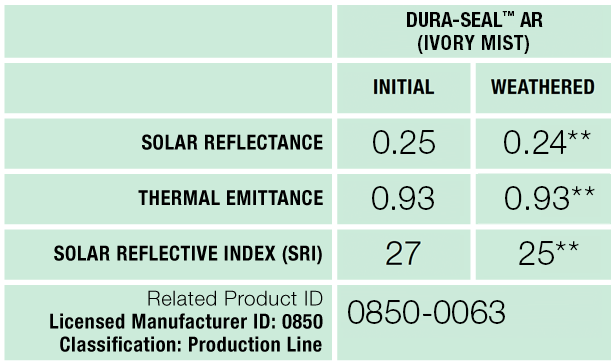 3M Smog-Reducing Granules (featured in TIME Magazine's 50 Best Inventions of 2018), harness sunlight to photocatalytically convert smog (NO, NO2) into water-soluble ions (NO3), actively reducing air pollution. One roof has the same smog-fighting potential as 2 or more trees (assuming standard roof of 30 squares).